OMA 26, Strong, Robust, and Multitasking
Your ultimate solution for your weekdays.

Born in Stockholm
Are you looking for a convenient and energy-efficient way to navigate through your daily agenda? Do you need a reliable partner to simplify your daily life?
OMA 26 is your reliable companion in everyday life, with a strong and robust construction built to tackle all challenges. Its frame in heat-treated aluminum T606 provides superior durability and stability, while the powerful motor and flexible design make it versatile enough to perfectly suit your needs. Whether you're going on a family adventure, commuting to work, or enjoying a leisurely bike ride, OMA 26 is your key to a reliable and comfortable cycling experience.
Dimensions: L 186 x B 38 x H 120 cm.
About us
Pre-order now
OMA 26 – The Multitasking Electric Bike for the Whole Family

Experience the freedom and flexibility with OMA 26, an electric bike that multitasks to meet your family's needs With the ability to easily detach the transport parts, like the child seat and the front cargo rack, OMA 26 can transform into a lightweight commuter bike when you need it. With its multitasking design concept and clever solutions, OMA 26 gives you the freedom to choose how you want to ride.
Pre-order now
OMA 26 – Designed for sharing

The Oma 26 is suitable for cyclists who are 155 – 200 cm tall, and the cockpit adjusts in seconds to fit your riding position. It also makes it simple and easy to share the bike with family members. Mindre cyklister kommer också att uppskatta den låga Easy-Step-ramdesignen för problemfri på- och avstigning
Pre-order now
Powerful Electric Motor and Smooth Enviolo Gears

To make your city bike rides even better, Oma 26 is equipped with a powerful Bafang 410 electric motor and a 14A, 504W battery. This means you can enjoy smooth and easy riding, even uphill and against the wind. Oma 26 gives you the extra boost you need to get there quickly and easily, while the smooth Enviolo gears give you control over your speed and terrain, allowing you to tailor your bike ride exactly to your preferences.
Pre-order now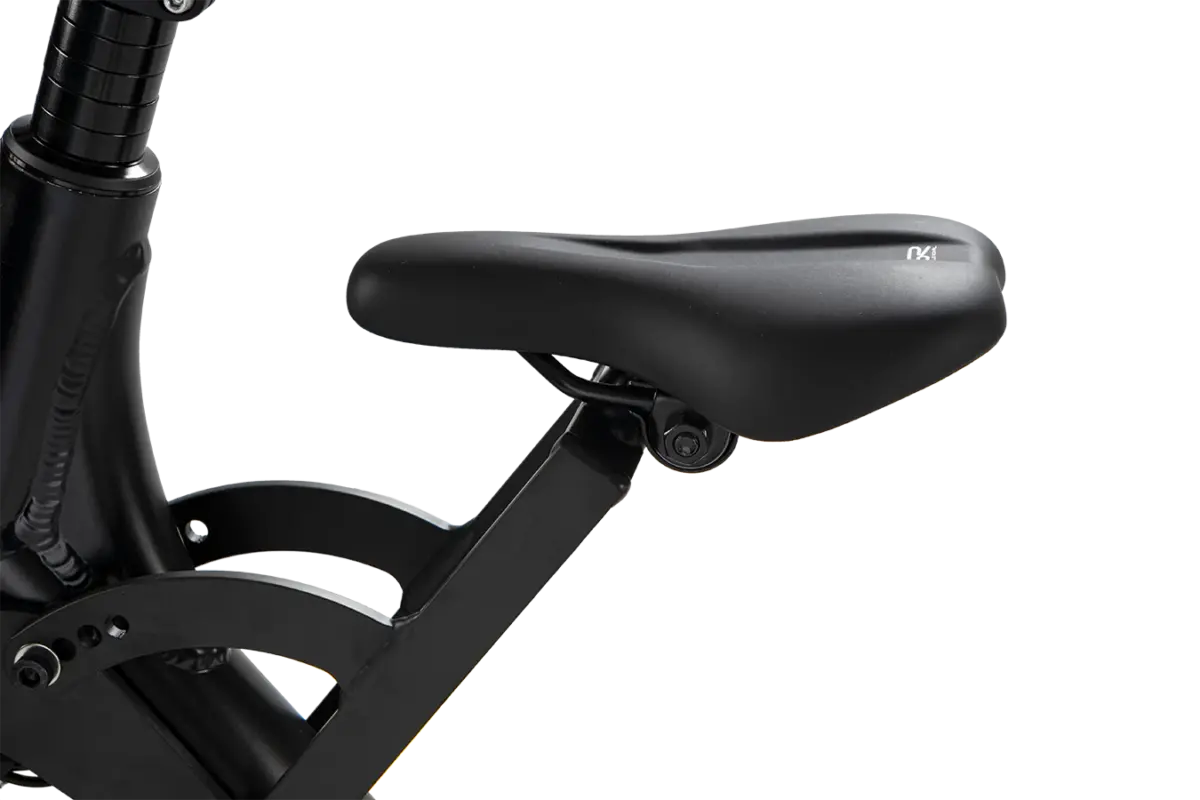 Child saddle securely mounted to the frame of OMA 26

Parents, now you have the opportunity to take your little darling on exciting bike rides with Oma 26. Here you can see our child saddle, which is easily mounted to the frame, allowing your little sweetheart to enjoy the journey in safety and comfort. Give your child a memorable experience with OMA 26!

Front carrier that supports 25 kg


OMA 26 is not only your reliable electric bike but also your best friend when it comes to transporting cargo. Our front carrier supports up to 25 kg, making it easy to bring everything you need on your city adventures.
Pre-order now
Anyone, Anywhere, Anytime in Control
No matter your destination, Oma 26 guarantees a joyful and smooth daily commute. Day or night, it provides you with the power to cycle with rhythm and stability. As the ultimate choice for all commutes, it's designed for city life.
Read more about us
Extra Long Rear Carrier: OMA's Innovative Design

OMA 26 takes cycling to a new level with its innovative extra long rear carrier. We also call it Ponny. Now you can easily transport large packages, bags, or even bring more passengers on your journey. This groundbreaking design concept allows you to make your everyday life more comfortable and flexible. Explore new transportation possibilities with OMA 26 and discover a smarter and easier way forward..
Bafang Motor Specification
Bafang M410 250W/h
Bafang M410
Lightweight, powerful, practical, and useful
Bafang M410 is the result of several years of development and Bafang's extensive experience in electric motors. The motor is both powerful and well-constructed, providing a fantastic and natural power transfer precisely when the rider needs it.
With a power output of 250 watts and a torque of 80 Newton-meters, the M410 is one of the best electric motors on the market and an excellent choice for Cargobikes. Improved seals reduce resistance and provide smooth and efficient rolling. Together with Envolio gears, M410 provides excellent shifting performance and requires low maintenance over a long period of time.
80 Nm of torque. Motor assistance up to 25 km/h in accordance with EU law.
| | |
| --- | --- |
| Measure | L 186 x W 38 x H 120 cm |
| Material | Aluminum T606 |
| Total weight | ≈ 30 kg |
| Max Load | 150 kg (Exclusive cyclist) |
| Engine | Bafang M410 36V 250W |
| Engine power | Max (80 Nm Torque) |
| Battery | Standard 14A/ 504W/h |
| Range | 500 Wh: 50 -100 km km |
| Display | Bafang DP C220 |
| Rear hub, Gears | Enviolo Heavy Duty 36H |
| Gear shifter | Enviolo stepless |
| Drivetrain | Rim drive with 120T |
| Rear drive | Rim 22T |
| Front drive | Rim 46T |
| Breaks | Hydraulic disc brakes |
| Brakes Brand | Hydrauliska Bengal |
| Pedals | FP-965A, Non-slip |
| Lights | E-Bike with 50 Lux |
| Color | Black |
| Saddle | Selle Royal Free. Plus |